Marcia Gygli King at Kouros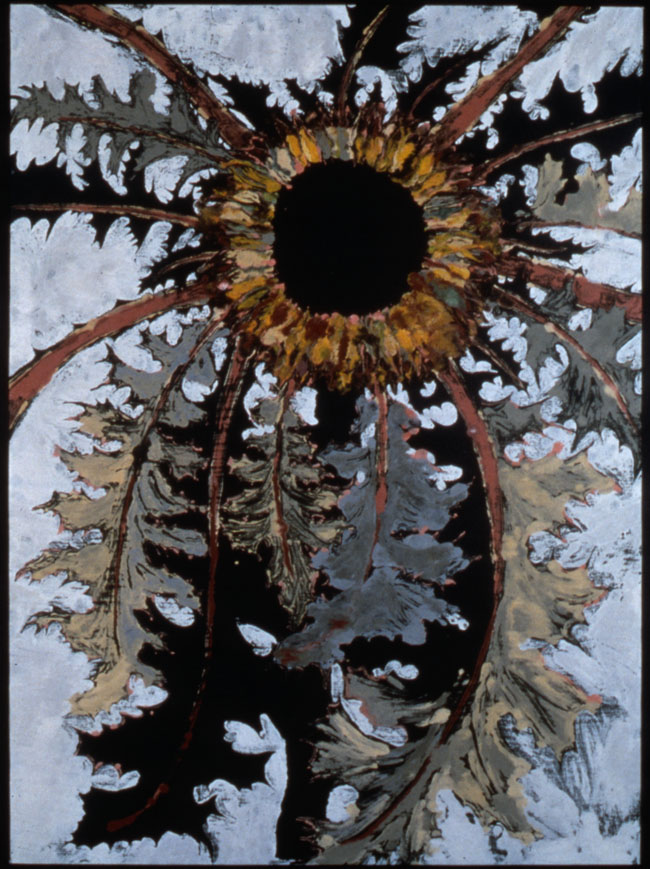 Marcia Gygli King: Botanical Series #6 (Carlina), 1997, oil on canvas, approx. 7.5 by 5.5 feet; at Kouros.
With the flower prints of Dr. Robert John Thornton's classic study Temple of Flora (17991807) as their inspiration, Marcia Gygli King's "Botanical" series paintings have a vibrant quality that is rooted in metaphysical expressionism while remaining true to the letter of the early morphological studies of flowers. The 17 large oilon-canvas works, a blend of spontaneous gesture and appropriated protoscientific imagery, successfully bridge antithetical approaches to image-making.
In several of the best paintings, such as Botanical Series #6 (Carlina), 1997, the artist emphasizes the spiraling network of leaves that emanates from a central black floral head, recalling flower studies by Mondrian as well as Charles Burchfield's renderings of vitalistic emanations. Other paintings have the structured look of a giant woodcut or lithograph, such as Botanical Series #2 (Alpinia), 1997, where a red and white flowering plant is painted in the center of the canvas, complete with two "labels": a simulated printed Latin nomenclature (Alpinia Linnaen) and its vernacular name, the "Wedlock Plant." Four thin painted lines create a border that suggests the edges of a page in a botany text.
Even the most lyrical of the works evince a predetermination that gives them a sense of remove. Against backgrounds of intense black-green, the principal shapes-lying somewhere between nature morte studies, emblems and abstract configurations-serve as the starting point for patterns of energetic brushstrokes. The paint application stays close to the tooth of the canvas, keeping to a measured, even, dry quality that emphasizes structure and form. Though the paintings are hieratic and confrontational in size, King's sometimes tremulous line offers intimations of instability and transient beauty. These suggestions are intensified through stippling, sponging and blotting, and through tiny white strokes vigorously brushed across the black-green grounds.
Of course King encounters nature en plein air as well as through the received (if not exactly scientifically accurate) information of historical prints, and she communicates a felt somatic identification with nature's rhythmic turns, twists and thrusts. Her paintings address dual purposes: to celebrate the force and splendor of nature as experienced through the plant and the human body, and to study the intervention of memory, science and history in that experience. The interplay between the two aims is the key to the vitality of the "Botanical" series.
-Dominique Naha