Art in America

December 1992

Marcia Gygli King at Hal Katzen

One of the more interesting aspects of King's new paintings is the rather monotypelike process she engages in. Although she uses traditional brushwork in achieving her very painterly landand seascape effects, she arrives at the initial ground for a. work by a technique she calls "onceremoved painting': working over a sheet of Plexiglas with pigment and then pressing it onto a prepared canvas where it spreads out in every direction and creates a highly tactile, even sensual surface.

King may repeat this application procedure, yet every work shows that the hand (if not precisely the gesture) is important to her modus. For, each and every time out, a King "nature painting"-based on areas of upstate New York or, more often, on sites near her home in the Hamptons-is a roiling imbroglio of color and form. Even the frame is involved in the action.

Wainscott Jetty-Hurricane (1991-92) is an excellent example. Within a frame wildly spotted with side-by-side, inch-thick, randomly painted Styrofoam half circles, the foreground shore is painted broiling-sand-yellow; rocks are demarcated by tones of mustard or mauve; the jetty, battered by almost tangible storm winds, has collasped into amber, white and somewhat
mysterious bloodred tones; the ;urf pounds green and impastonad white. The entire affair is
capped by an agitated, red- and tan-flecked, deep-blue storm sky above.

King does not limit herself to landscape. The frame of Rubrum Lily with Vase (1991) features clusters of painted stones strung together like a shell necklace, and the top portion of a real vase protrudes from the lower left corner with a painted giant lily sprouting from it, red and crimson with juicy stamens thrusting down. This is a surprisingly Redonesque kind of floral imagesurprising because King generally holds back on lyrical effects in. favor of an all-out visual onslaught that shows much passion for nature and art, but little regard for more delicate sensibilities.

In one work, the artist evinced soclo-ecological concerns: as a reminder of our limited water supply, Springs Upstate spilled. Styrofoam "waters" out of the frame, across the gallery floor, out the door and down to the SoHo streets, until rain and pedestrians carried them away. The ecological commentary, added to a painting already loaded with expression, made it top-heavy with meaning. Generally, though, King avoided diatribe in favor of evoking a nature in wild flux, yet so lush and opulently beautiful that it was somehow stilled.

-Gerrit Henry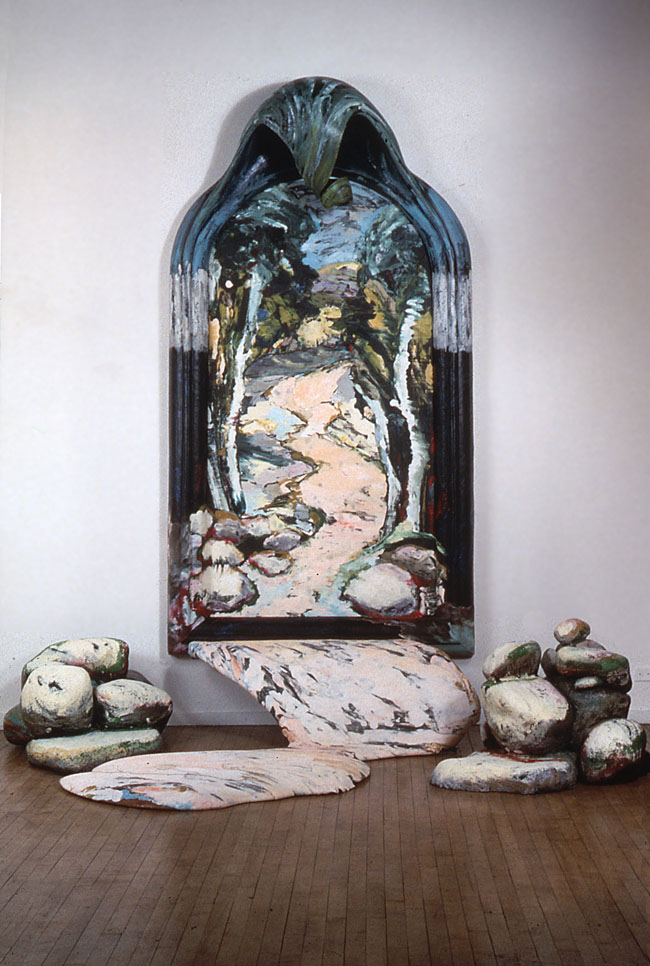 Marcia Gygli King: Springs Upstate, 1990-92, oil on canvas, mixed medium frame, 108 by 60 by 7 inches, sculptural elements, 25 by 84 by 72 inches; at Hal Katzen.